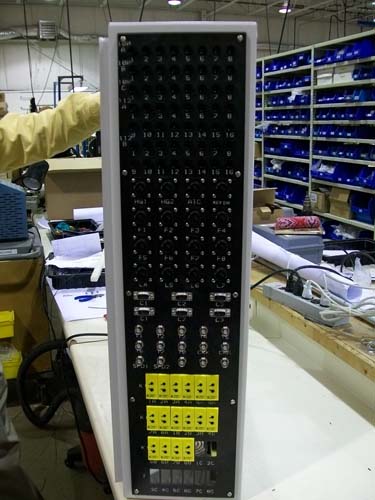 APA was recently contracted by a client who worked with military vehicles to produce a custom testing fixture that would test specific components within special military vehicle systems.
For this project to be successful, the client needed us to meet all customer specifications for correct wiring connections, and to provide very precise placement, spacing, and orientation of all fixture components.
Combining our electronic box build assembly services with our top-notch wiring operations, we were able to build this fixture, fulfilling all of our client's requirements while meeting IPC-WHMA-A-620 workmanship standards.To begin this project, we first had to purchase sheet metal fabrication for the enclosure, along with a plain plastic face panel. After all needed parts and materials were procured, we used a combination of our drill press, Greenlee punches, and milling machinery to perform all necessary drilling, punching, and cutting operations to fashion the fixture's various features. We also engraved all characters. These processes had to be carried out very precisely to meet our customer's exact specifications.
Using our Komax wire processor and Schlueniger strippers, we then proceeded to strip and cut all wires. We also employed our AMP Press to perform all terminal crimping necessary to successfully terminate each connector.
We then attached all wires, including special thermocouple connectors, and installed all other components per our customer's material list and drawing. After manufacturing and assembly was completed, the testing fixture measured approximately 36 inches high, 24 inches wide, and 9 inches deep. This product also weighed 50 pounds and featured a DIN rail used for mounting circuit breakers and other industrial control equipment inside equipment racks.
After all in-process and final visual inspection, including electrical power-up testing, was performed, we shipped the vehicle test box to our client's facility in Melrose Park, Illinois. Successfully meeting all of our client's exact specifications for wiring connections and component placement, APA was able to effectively build a custom testing fixture for the special military vehicle systems industry.
Specifications
Capabilities Applied/Processes
Purchase Sheet Metal fabrication for the enclosure
Perform drilling, punching and cutting for various features per customer specification. Purchase plain face panel and perform
engraving of characters.
Wire Cutting
Wire Stripping
Soldering
Wire/Terminal Crimping
Assembly

Connect Wires and Connectors According to Schematic
Install other components per customer material list and drawing.

Equipment Used to Manufacture Part
Drill press, Greenlee punches, Milling machine, Komax wire processor,
Schlueniger strippers, hand tools, AMP presses.
Overall Part Dimensions
Height: 36.00"
Width: 24.00"
Depth: 9.00"
Connector Types
DB9, CPC, Mini-4, special thermocouple connectors.
Tightest Tolerances
Customer specifications for correct wiring connections and placement
of components, proper spacing and orientation.
Material Used
Sheet metal Enclosure Material, plastic face panel, pVC insulated wire
24-14 AWG, DIN rail with modules, wire break-out track, resistors,
fuses, power supply and cooling fans.
Features
DIN rail and thermocouple wire.
In process testing/inspection performed
In-process and final visual inspection performed. Electrical power-up testing.
Estimated Part Weight
50 lbs.
Industry for Use
Military Vehicle Systems.
Delivery Location
Melrose Park, IL
Standards Met
IPC-WHMA-A-620 workmanship standard.
Product Name
Vehicle Test Box