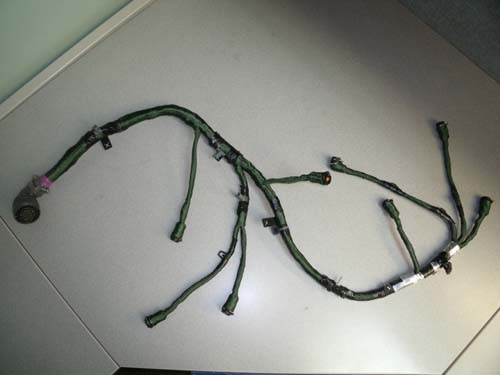 The custom wire harness assembly pictured here is used for a special military vehicle application.
American Precision Assemblers built this special harness from 16 AWG wire using a combination of equipment, including a KOMAX Gamma 333 wire processing machine, a Stapla ultrasonic welder, a pneumatic crimper, an arbor press, 24 bobbin braiding machines, and a custom harness board with integrated tester. Meeting customer specifications for overall length, breakout length, and orientation, the finished unit measured 60 inches long with 8 individual branches. The part also featured 35 position metal connectors, along with 4 position plastic connectors equipped with a locking device.
To begin this process, we first gathered all appropriate material and tools to carry out the build. We stripped each wire per customer specifications and applied terminals to these wires. We then twisted the wires using a mechanical twister. The terminals were installed into a large connector using guide pins and then fitted into eight separate, smaller connectors. We then performed ultrasonic welding on all wire splices and covered all called-out wire with fabric tape.
Finally, the assembled part was placed on a custom harness board where the various breakouts were made. We additionally installed a loom, as well as all add-on parts.
In order to ensure the finished cable harness met precise client specifications, we compared the harness assembly against a harness board to confirm that our product possessed all proper lengths and connector orientations. We also performed a series of in-process and final visual inspections, as well as an electrical test. In addition, we spliced the jumpers to all drain wires, and then tested the unit's performance.
Once assured that the cable harness fulfilled our customer's unique product requirements, we delivered the completed unit to our client's facility in Huntsville, Alabama. The finished harness met IPC-WHMA-A-620 standards for superior workmanship.
Specifications
Capabilities Applied/Processes
Assembly Preparation

Gather Appropriate Materials & Tools to Carry out Build

Assembly

Strip Each Wire per customer specifications
Apply terminals to wires
Twist wires using mechanical twister; tape wires per spec.
Install Terminals into Large Connector using Guide Pins
Install terminals into eight small connectors
Perform ultrasonic welding of wire splices
Cover Called-Out Wired with Fabric Tape
Place on Harness Board and Make Breakouts
Install Loom and Add-on Parts

Potting

Fill Backshell of Connector Completely with Epoxy
Dome Epoxy to Create Seal Over Top
Allow to Cure for 6hrs Minimum.

Overbraiding:

Braid Entire Harness
Fabric-over-Metal Braid

Soldering
Equipment Used to Manufacture Part
KOMAX Gamma 333 wire processing machine
Stapla Ultrasonic Welder
Pneumatic Crimper
Arbor Press
24 Bobbin Braiding Machines
Custom Harness Board with Integrated Tester
Overall Part Dimensions
16 AWG Wire
60 inches with 8 Individual Branches
Connector Types
35 Position metal connector
4 Position Plastic connectors with Locking Device
Tightest Tolerances
Meet customer Specifications for overall length, breakout length and orientation.
Material Used
Tin/Copper Metal Braiding
Green Polyester Fabric Braiding
16 AWG wire with PVC insulation
Metal and Plastic Connectors
In process testing/inspection performed
Check Harness Assembly Against Harness Board for proper lengths and connector orientation
Splice Jumpers to All Drain Wires, then Test
Perform in-process and final visual inspection.
Perform final electrical test
Estimated Part Weight
3 lbs
Industry for Use
Special Military Vehicles
Delivery Location
Huntsville, AL
Standards Met
IPC-WHMA-A-620 workmanship . IPC-J STD001 for soldering
Product Name
Injector Harness.