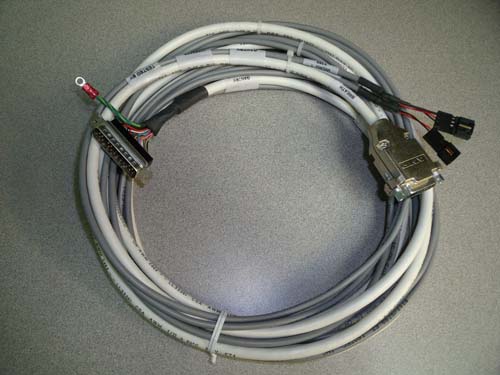 For almost three decades, American Precision Assemblers (APA) has served industry as a manufacturer and supplier of high-quality custom cable assemblies, wire harnesses, and electronic sub-assemblies. Having started business in a small leased facility, we have since expanded our operations—both in regard to production volume and customer base—to include plants in Hampshire, Hermosillo, and Duluth.
In every project we take on, our expert team aims to provides customers with the highest quality products and services. By offering a comprehensive selection of custom wire harness fabrication services, we ensure that all of their harness needs are fully met.
What Is a Wire Harness?
A wire harness—also referred to as a wiring harness—is a collection of electrical wires enclosed within an exterior sheath. The sheath—typically made from lightweight thermoplastic or thermoset material—facilitates the organization of the wires contained within and protects them from minor damage due to environmental factors.
Wire harnesses find use in the electrical and electronic devices of a diverse set of industries, including in the following:
Aerospace

Agricultural

Aircraft

Food and beverage

Industrial equipment

Industrial vehicle

Medical

Military

Printing

Safety and security

Wire
For these industries, among others, they serve as a low-cost solution for bundling and organizing a large number of wires and cables. Their design allows industry professionals to install all of the wires necessary for an application at a much faster rate.
What's the Difference Between a Wire Harness and a Cable Assembly?
Many industry professionals—even those who regularly work with them—use the terms "wire harness" and "cable assembly" interchangeably. While wire harnesses and cable assemblies share some characteristics in regard to design and function, the differences between them ultimately result in distinctly different use cases.
Both wire harnesses and cable assemblies—also referred to as cable harnesses—employ exterior sheaths to organize and protect wires. However, the sheaths used in cable assemblies are made from more durable materials than those of wire harnesses, enabling them to withstand the conditions of heavier duty applications.
The requirements and restrictions of the intended application determine whether a wire harness or cable is more appropriate:
Cable assemblies are ideal for

use in applications that involve harsh operating or environmental conditions, such as

excessive heat, moisture, friction, compression, abrasion, etc. 

Wire harnesses are ideal for

applications that require a low-cost organizational solution and involve minimal exposure to harsh conditions.
Custom Harness Fabrication Services at APA
At American Precision Assemblers, we provide our customers with high-quality custom wire harness solutions. Our expert team handles all aspects of manufacturing, including:
Crimping

Cutting

Coiling

Connecting

Sub-assembly integration

Marking

Soldering

Stripping

Terminal application

Ultrasonic wire welding
We accommodate a wide range of wire harness needs by providing options for various harness features, connector types, coverings, insulation materials, and wire and cable sizes. See the table below for more information.
Contact us today to find out more about our wire harness capabilities. To discuss your unique application with one of our experts, request a quote.
Examples of Custom Wire Harness Building by American Precision Assemblers
Specifications
General capabilities
Contract
Manufacturing Capabilities
Crimping
Coiling
Connecting
Cutting
Integrating into Subassemblies
Marking

High Speed Inkjet Printing
Laser Marking
Hand Marking

Soldering
Stripping
Terminal Application
Ultrasonic Wire Welding
Harness Features
Abrasion-resistant
Braiding

Metal
Fabric
Controls RF Interference

Binding

Cable Tie
Sleeve
Electrical Tape
Conduit-Flexible

Heat-resistant
Oil-resistant
Water-resistant
Connector Type
Co-Axial
Insulation Displacement
Mil Spec Solder Cup Connections
We Can Apply All Types of Connectors Excluding Fiber Optics, Please Inquire for your Application
Covering
Braided Plastic Over Molding Wrapping
Insulation Type
PTFE
PVC
Rubber
We meet any of our clients insulation requirements
Wire and Cable Length
60+ ft 18,288+ mm
Wire/Cable Thickness
Min
30 AWG
Max
0 AWG
Testing/Inspection
Complete In Process and Final Inspections
Utilizing Cirris Testing Equipment


Continuity
Component Detection
Capacitors
Diodes
Twisted Pairs

Dwell Time: Custom for each application
High Voltage Testing
Hipot testing
Opens
Shorts

Test Reports are generated for each Product
Custom Harness Boards

Ensures Proper Assembly
Ensures Proper Connectors are Applied

Used as a Testing Platform

Production Volume
One-Offs
Prototype
Low Volume to High Volume
Turn Around Times
Consignment
J.I.T Deliveries
Kan-Ban Programs
Min-Max Programs
"Breadman" Stock Replenishment Programs
Daily Delivery Available

Delivery via APA vehicles; 50 mile radius

Value Added Services
Manufacturability Improvements
Product Procurement
Reverse Engineering
Thru Hole Circuit Board Assembly
Value Engineering
Industry Focus
Aerospace
Agricultural
Aircraft
Food
Industrial Equipment
Industrial Vehicle
Medical
Military
Printing
Safety/Security
Wire
Intended Application
Aircraft Equipment
Fuel Injector Harness
Laser Marking Systems
Printers
Police & Ambulance Auxiliary Harness'
Nuclear Imaging
Sensor Harness
Vehicle Systems
Industry Standards
CSA - Canadian Standards Association (Compliant)
IPC

IPC WHMA-A-620
IPC-JSTD001D

Certified to AS9100 QMS Standard
ITAR - International Traffic in Arms Regulations (Registered)
Mil-Spec - Military Specifications
REACH - Registration Evaluation Authorization and Restriction of Chemical Substances
ROHS - Restriction of Hazardous Substances
UL - Underwriters Laboratories Inc. (Recognized Cable & Harness Manufacturer)
File Formats
AutoCAD (DWG)
DXF - Drawing Interchange Format, or Drawing Exchange Format
GIF - Graphics Interchange Format
JPG or JEPG - Joint Photographic Experts Group
PDF - Portable Document Format
TIFF - Tagged Image File Format