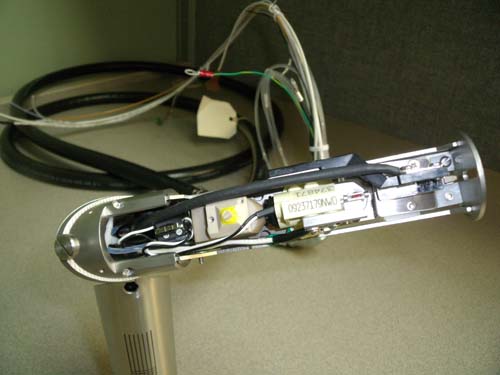 APA manufactures custom printhead assemblies for Inkjet printing equipment. High speed inkjet printers can be utilized for food and beverage packaging, postal service applications, and industrial marking.
A leader in the production of custom cable assemblies, APA always fulfills client specified requirements, meeting customer tolerances for lengths and precise placement of internal parts.
Containing over 50 individual components, we are able to assemble this complex part using a combination of our advanced services, including cutting, assembly, wire stripping and crimping, and soldering. In order to manufacture this intricate assembly, we first cut all cables and tubing, including protective tubing, to customer specified lengths. We also cut the flexible shielded conduit, removing all burrs.
Next, we attach and assemble fittings to each side of the conduit and then insert all cables and protective tubing into the conduit. We additionally insert ink tubing into the protective tubing. We also ensure that the proper length of tubing and cable is extending out of the other side of the conduit. Finally, we assemble all components to the printhead chassis. After production is complete, the conduit measures 240 inches in length, and the protective tubing measures 248 inches in length. The entire assembly weighs approximately 12 pounds.
After we finish stripping and crimping the wires, we then use our advanced soldering station to fuse all conductors and in resistors to the assembly, as well as solder LED to the appropriate wires. In addition, we place shrink tubing over all soldered connections, providing these wires with further insulation and protection.
To ensure the quality of our printhead products, we employ our Cirris electrical tester and custom made fluid evaluator to examine the part for any flaws, including pressure and leaks, making sure that our printhead assemblies fulfill all performance expectations. Meeting IPC-WHMA-A-620 standards, as well as UL and CSA requirements, our custom printhead assemblies meet the needs of diverse businesses, from food and beverage to high-tech, industrial industries.
Specifications
Capabilities Applied/Processes
Cutting

Cut Conduit and Remove Burrs
Cut Protective Tubing
Cut Cables & Tubing to Specified Lengths

Assemble

Assemble Fitting to each Side of Conduit
Insert Cables into Conduit
Insert Protective Tubing into Conduit
Insert Ink Tubing into Protective Tubing
Make sure proper length of Tubing and Cable is out on the other side of Conduit
Assemble Components to Printhead Chassis
Wire Stripping
Wire Crimping

Soldering

Solder LED to Appropriate Wires
Solder Conductors
Solder In Resistors
Place Shrink Tubing Over Soldered Connections

Equipment Used to Manufacture Part
Wire Stripper & Crimpers
Soldering Station
Cirris Electrical Tester, custom made fluid tester
Hand tools and custom made fixtures
Overall Part Dimensions
Conduit Length: 240"
Protective Tube Length: 248"
Tightest Tolerances
Meet customer tolerances for lengths and precise placement of internal parts
Material Used
Flexible shielded conduit, PTFE and EVA tubing of various diameters, coaxial cable, twisted-pair and discrete wires, shielded cable, metal braid and over 50 unique components.
In process testing performed
Electrical testing Fluid Flow, Pressure and Leak Testing
Estimated Part Weight
12 lbs.
Industry for Use
High speed inkjet printing for food and beverage packaging, postal services and industrial marking.
Delivery Location
Wood Dale, IL
Standards Met
Meets Customer specific requirements, IPC-WHMA-A-620 standards, UL and CSA requirements.
Product Name
Printhead Assembly