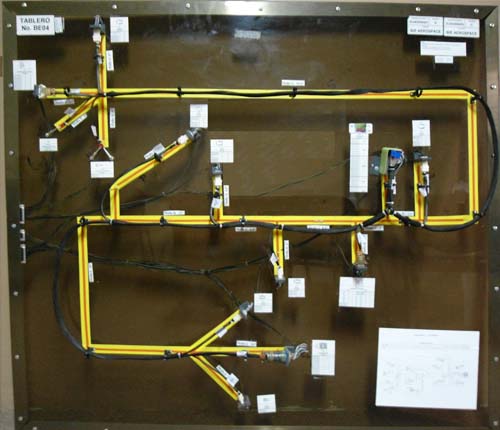 American Precision Assemblers built a custom wire harness from 20 AWG Teflon insulated wire for the Aerospace Industry. This wire harness is currently being used for aircraft bulkhead lighting.
To begin the process of building this product, we first gathered all parts and tools as required. We then used our Komax Gamma 33 machine to cut and laser mark all wires. We also stripped the insulation per customer specifications.
After completing these processes, we then soldered all sub-assemblies and diodes, as well as the fuse holder, onto the harness and then placed heat shrink over all soldered joints. We applied terminals to the ends of the wires and write-on labels to the various connectors. We finally concluded the production of this harness by sliding the backshell onto the wires before pinning the connectors, and then linked all sub-assemblies together.
In order to ensure that the cable harness met IPC/WHMA-A-620 standards and special customer requirements, we performed a comprehensive series of tests, verifying proper wire lengths, component quantities, and wire ID's. We also ensured that the wire ID's read left to right.
In addition, we verified that all crimps were correct and of good quality, that all connectors were secure and in position, and that all terminal pins were securely seated. Finally we checked the diodes, LED, and harness to ensure proper quality.
After this comprehensive testing process was completed, we then delivered the finished cable harness to our client's facility in Tucson, Arizona. The cable harness fulfilled all industry standards – as well as our customer's high expectations – for performance and quality.
Specifications
Capabilities Applied/Processes
Assembly Preparation

Gather Parts and Tools As Required

Cut and Laser Mark Wires on Komax Gamma 33 machineStrip insulation per Specifications Soldering

Solder Sub-Assemblies
Solder Fuse Holder
Solder Diodes
Place Heat Shrink Over all Soldered Joints

Crimping Assembly:

Assemble & Apply/Write on Label to Connectors
Slide Backshell onto Wires before Pinning Connectors
Assemble Sub-Assemblies Together

Equipment Used to Manufacture Part
KOMAX Gamma 333 wire processing machine
Alltec Laser Marker
Hand tools for crimping
Pull tester
Crimp height micrometer
Cirrus tester
Overall Part Dimensions
20 AWG Wire with Teflon insulation
Approximately 4 feet with 12 branches.
Connector Types
Mil circular and D-sub connectors.
Tightest Tolerances
-0"/+2" on all lengths and breakouts
Material Used
20 AWG Teflon insulated wire
Plastic and metal connectors and blocks
Expando-sleeving
Cable ties
In process testing/inspection performed
Measure and Verify:
Wire Lengths
Quantity of Components
Wire ID's
Wire ID Read Left to Right
Double Check Solder Sub Assemblies
Shrink Tubing Should be Completely Shrunk over Soldered Joints
Diodes Should be Covered by Long Piece of VFIT
Verify Crimps are Correct and of Good Quality
Verify All Connectors are in Position & Secure
Verify All Terminal Pins are Securely Seated
LED Testing:

Fill In LED Test Form Per Work Order

Diode test:

Fill Out test Form Per Work Order

Test Harness:

Fully Pin Connectors to Form Board
Test Harness Using Cirris Tester
Print Out Test Sheet

Relay Testing:

Fill Out Assembly Test Form Once Testing is Completed

Estimated Part Weight
2 lbs
Industry for Use
Aerospace
Delivery Location
Tucson, AZ
Standards Met
IPC/WHMA-A-620 standards and special customer requirements
Product Name
Custom Wire Harness for Aircraft Bulkhead Lighting